Silly Boy goes shopping!
Don't know what my silly auntie is up to. But I know that I will not forgive her for this, once I am old enough to understand: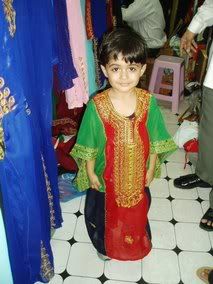 She actually took me to the old Manama suq when I was asking her to take me to Magic Island in Seef Mall. I don't know why she did this.
I knew we were not going to Seef when she said that she wanted to buy a thobe for my other cousin Dana and we had to go somewhere else.
In the suq, she saw this thobe and wanted to see whether it fitted Dana or not..so I was her model for the day.
What did I get in return: a spiderman T-shirt because I am a boy!